The World Water Atlas, an initiative of Dutch Special Envoy for Water Affairs Henk Ovink, is part of the Action Plan of the UN/World Bank High Level Panel on Water (HLPW). The Action Plan recognizes the need for "a platform where states can share and exchange lessons and good practices for addressing water-related disasters and translate them into solutions that can be promoted globally".
Collect, link and unlock
The World Water Atlas focuses on the water challenge against the background of climate change. Its aim is to provide local and (inter)national decision makers, governments, companies, and citizens from all over the world and all walks of life with tools with which to take absolutely necessary, concrete action, as effectively and rapidly as possible.
To achieve this, the World Water Atlas collects, links, unlocks, and distributes knowledge, data, best practices, and inspiring local initiatives and then integrates them into a coherent and mobilizing narrative that provides prospects for action and thus encourages people to rise to the challenge. Various media are implemented, including a digital platform and film.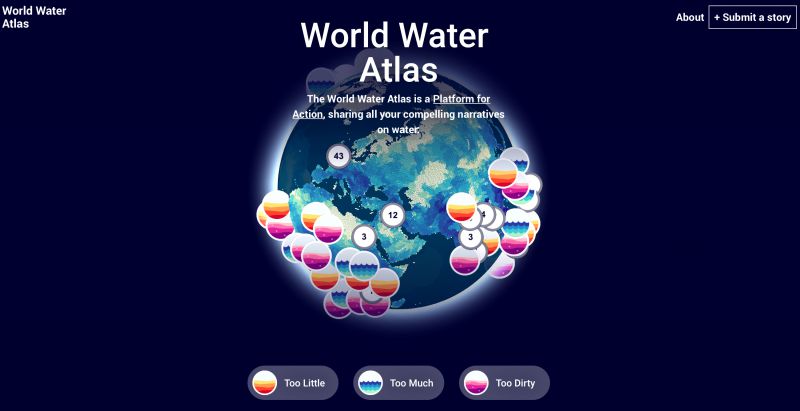 The
1.0 version of the World Water Atlas
has been launched at World Water Day, 22 March 2018,
,
in New York, during a meeting of the High Level Panel on Water.
IABR
The IABR investigated the feasibility of the World Water Atlas in 2016 under the authority of the Ministry of Infrastructure and the Environment. The outcomes and recommendations ensuing from that investigation prompted the ministry to ask Deltares, the Netherlands Environmental Assessment Agency, and the IABR to form a consortium to realize the Atlas under the auspices of the Dutch Special Envoy for Water and in collaboration with a variety of representatives of the Dutch as well as, in the future, the international water community.
In the spring of 2018 the IABR and film producer Doxy produced Mexico City: The Thirsty City, a film directed by Alexander Oey, especially for the WWA. You can now watch it with Dutch, English or Spanish subtitles on the IABR Vimeo Channel.
---
Founding Partners WWA: Netherlands Ministry of Infrastructure and Water Management, Deltares, International Architecture Biennale Rotterdam (IABR), Netherlands Environmental Assessment Agency (PBL)