Anyone who wants to understand De Staart, must see the island through the lens of its industrial history, which, to this day, results in high CO2 emissions and serious noise and soil pollution. It's partly because of this that living and working are strictly separated. The existing residential neighborhoods are monotonous and introverted. Collective facilities and anchor points for a (climate) inclusive society are lacking.
However, the Map of Opportunities created by Adriaan Geuze (West 8), lead designer of IABR–Atelier Dordrecht, shows that the unique location of De Staart, on relatively high ground and surrounded by water, situated right next to the Biesbosch, also offers myriad possibilities. The area can start functioning as a new, sustainable living environment and as a refuge in the event of (water) emergencies.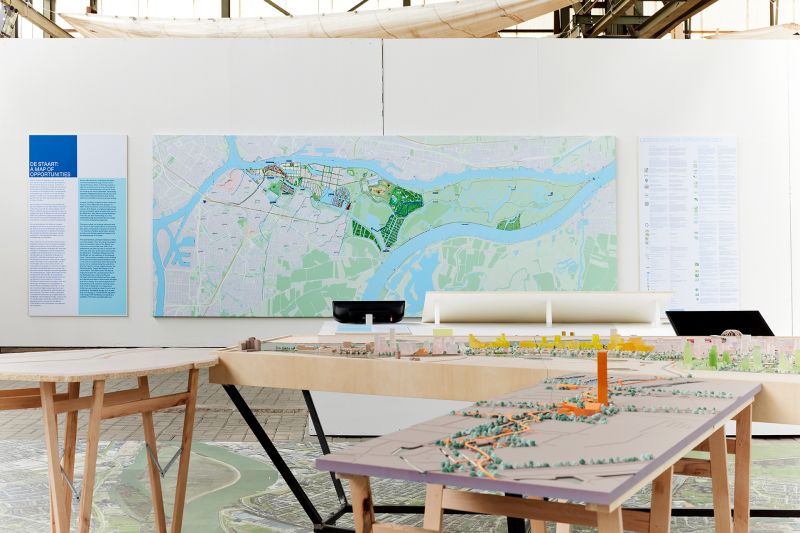 The water-safety-as-leverage approach calls for a focus on the outdoor space, on the emphasis of blue-green components, and on prioritizing good connections – on creating a flexible, sustainable, socially inclusive, and climate-adaptive framework for the development of De Staart.
First and foremost, De Staart needs to be lifted out of its isolation. Over and along the Getijdewater, the southern bank of the Wantij, new connections will provide slow traffic and pedestrians with direct access to and from the inner city, and open up the area's crown jewel, the Biesbosch. The Wantij tidal park and the Dordttrack are the backbone of this development. They provide accessible, nature-friendly banks that can function as an evacuation route in the event of a catastrophe. New urban meeting places will be created along the waterfront, directly linked to various neighborhoods: the Staartpaviljoen, Zagerij Nachtegaal and an urban beach. The water banks will also be improved so that the unique biodiversity of the Biesbosch has a chance to flourish.
image: West 8 voor IABR–Atelier Dordrecht
De Staart will then be transformed into a mixed and vital live-work area in various urban densities and with a twenty-first-century spectrum of subcultures, work locations, building types, and forms of dwelling; it is cooperative, collective, and individual, down to earth and amphibious. Renewable energy, such as solar and wind energy, is combined with aquathermal energy from the Wantij. Circularity is a condition. The future can start right now.