The Water School 1.0 is a "work-exhibition" in the studio of Studio Makkink & Bey, and a springboard from which to develop a school that, in the near future, will be opened in the heart of the M4H district. Using IABR–2018 as a launching platform and branching out from the M4H district, the hinterland of Studio Makkink & Bey, the goal is to create an active archive and network which are to be activated and used to establish the Water School.
Starting on June 1, 2018, during the biennale, the exhibition will be open to the public on six consecutive Fridays, from 2 until 7 pm, when the topics of water and education will be explored from different angles. The six themes are: Clean, Grow, Harvest, Make, Build and Document.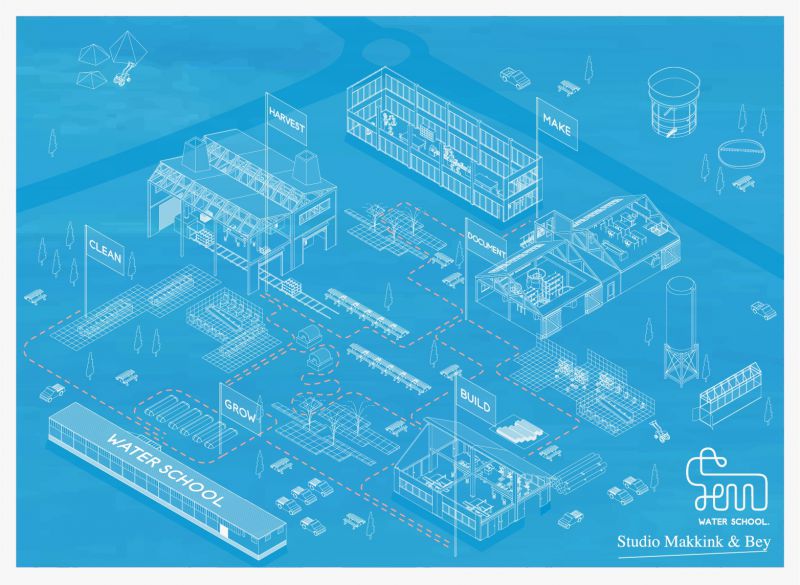 A specially selected team of employees from Studio Makkink & Bey will perform research on these themes and how to integrate them into the architecture and curriculum of the School. Each Friday, the Studio will present its findings and, from 4 till 6 pm, lecturers from the cultural, private and administrative sectors will share their views on water and education through presentations and discussions.
Studio Makkink & Bey is located in the M4H district, at Marconistraat 85.
For more information and (updates of) the program of each Friday session please check the agenda:
Clean – June 1– click here
Grow – June 8 – click here
Harvest – June 15 – click here
Make – June 22 -– click here
Build – June 29 – click here
Document – July 6 – click here