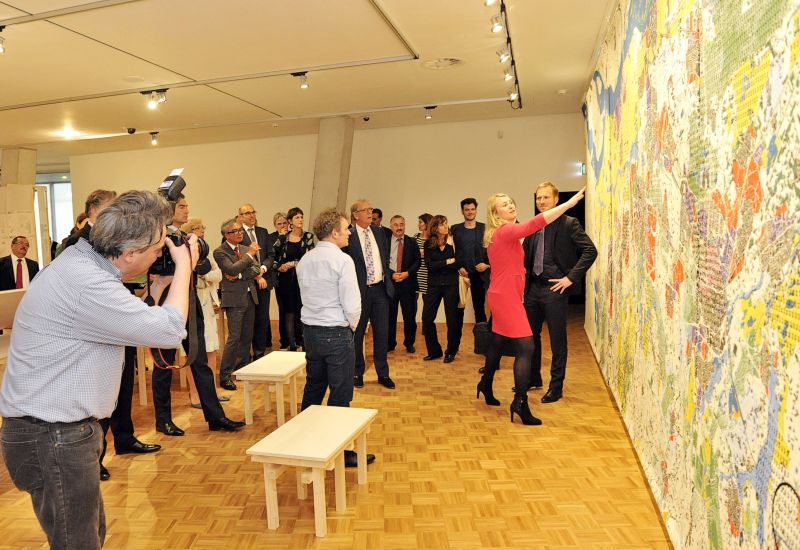 Project Atelier BrabantStad
With an eye toward the new Regional Plan for the Province of North Brabant and in the context of the Year of Spatial Planning 2015, the Province of North Brabant wished to share the results of the IABR–2014–Project Atelier BrabantStad and discuss the future of the mosaic metropolis of Brabant with as many Brabanders as possible.
Therefore, a small exhibition of the results of IABR–Project Atelier BrabantStad, 'Mosaic Brabant', has visited five different locations in the Province of North-Brabant after the IABR–2014–URBAN BY NATURE–: Helmond, Eindhoven, Tilburg, 's-Hertogenbosch and Breda. The province, the five cities, the water boards and Brabant's Architecture Centers invited the public to join in and actively contribute to the program of 'MozaïekBrabant'.
Designed especially for the occasion by design offices AWB, FAA, and LOLA, a tapestry was the centerpiece of the IABR–2014–URBAN BY NATURE– exhibition. The 12 x 3 m tapestry depicts the results of the Atelier's research by design. It shows how economic vehicles concerning residential quality, agriculture, leisure, and innovative enterprise can be coupled with the water challenge, resulting in six regional development principles.
The tapestry has now found a permanent home in the 'Provinciehuis', the Province of North Brabant's main administration building.
For more information, dates and locations (in Dutch), click here